Add-ons
Old add-ons
Links
About Maximize Message Pane
Have you ever felt the message pane (preview) is too narrow to read a message? The basic concept of Maximize Message Pane is to make more spaces for the message pane for easy reading. Maximize Message Pane provides the following functionalities. This extension is more useful when you read a mail by small laptop PC.
Maximize Message Pane changes the layout of the panes. If there are some bugs or conflicts with other extensions, the layout may be corrupted and could not be recovered. If you are in the situation, please delete localstore.rdf in your profile directory and restart Thunderbird. In spite of the recovery, if the problem is not solved, please feel free to ask me by email or posting to blog before giving up and recreate the profile.
Change layout of the messenger window temporarily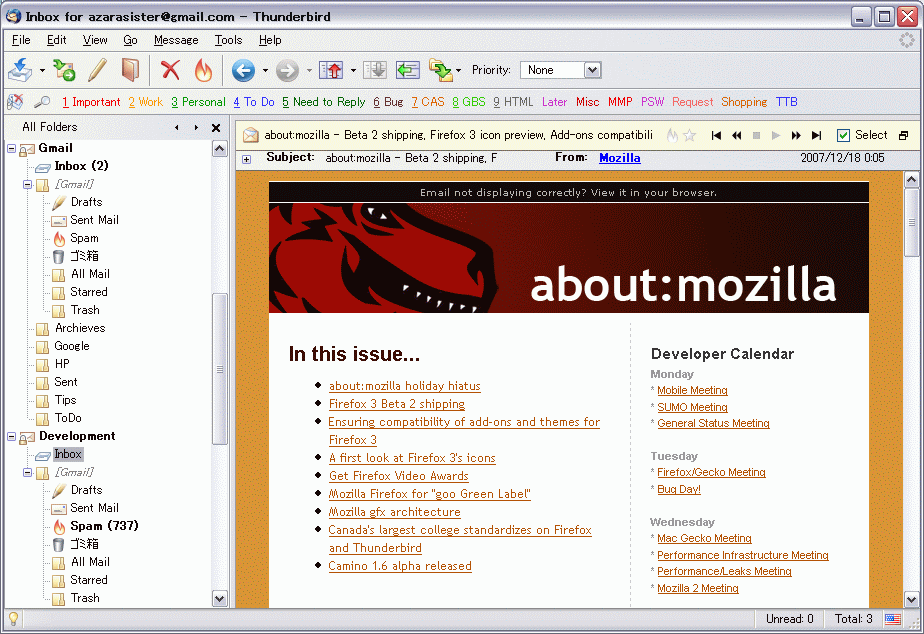 The thread pane and folder pane are not needed while you read a message but they occupy some spaces. MMP share more spaces for the message pane by hiding them. By default it hide only the thread pane like the image. You can also hide the folder pane by changing option.





Alternatives of the thread pane and folder pane
While you maximize the message pane, it is difficult to find and read another message. MMP has alternative tools for the thread and folder pane.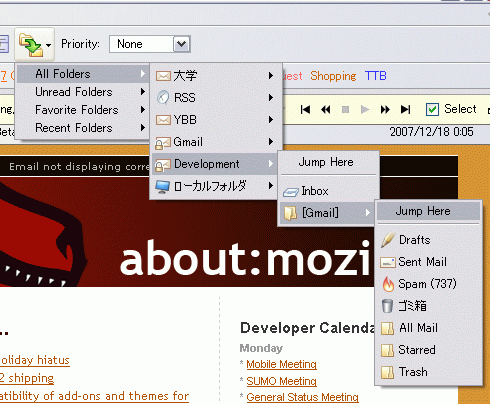 Jump folder functionality is the substitute for the folder pane. You can select a folder by popup menu. It can be invoked by a toolbar button and a context menu.
Navigation bar is the substitute for the thread pane. It appears on top of the message pane when you maximize the mesage pane. You can get find another message by using it. You can also change junk status and add star to a message.


Assign keyboard shortcut you want

Shortcut key for maximizing is assigned by default, however, you may think you want to use another key. You can re-assign any key you want.

top
Copyright (C) 2011- h.ogi , All rights reserved.