Add-ons
Old add-ons
Links
How to use Gmail IMAP Account Setup
This extension sets up Gmail IMAP/SMTP servers automatically. Moreover, it make a sent, drafts, and trash folders synchronize with ones in Gmail and set icons to them. A star icon is also attached to a starred folder. There are settings to improve Gmail Imap's performance. This extension also sets up them. Please note that you must sign up your Gmail account and enable Imap access in advance. Otherwise, you will fail to sychronize folders.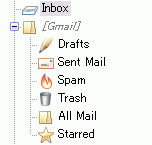 These settings are based on the Google's recommended settings. See the release note in the download page. I strongly recommend you to refer to them.





Preparation
Before you use this extension, you must set up Imap access at Gmail. In this section, I explain the way to setup by assuming you are in English language setting. Firstly, login to Gmail and click the "Settings" in upper-right of the page. You will move to the settings page. Please set up the following:

In the General tab, please confirm the language on top of the tab. Please use the same language in both Thunderbird and Gmail. If your Thunderbird's locale is"en-US" then you should set "English (US)" in Gmail.
* Please note that if your locale is not included in the extension, you will fail to sync folders. You can confirm your language is supported or not from
here
. If you failed to sync, set up the folders manually by following
Google's recommended settings
.
Forwarding and POP/IMAP tab
In this tab, please enable IMAP by the option in the buttom of the tab. Check "Enable IMAP" to activate IMAP.
Download and Install Gmail IMAP Account Setup
After setting up Imap in Gmail, install the extension. It can be downloaded in the download page. Please note that you should download it by right-clicking on the link and choosing "Save Link As...". If you succeed to download, open Add-ons form from Tools->Add-ons menu. Then click the install button and choose the file you downloaded. Finally, restart Thunderbird to complete installation.
Setting up Thunderbird
Now the time to create Gmail IMAP account. Open the account wizard from File->New->Account menu.
You can see the
Gmail IMAP
opton in it. Firstly, check this option and click "Next >".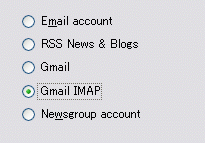 Input you name and e-mail address
In the next page, please fill the "Your Name" and "Email Address" and click "Next >". "Your Name" is used to "From" field as the form says. Please input these fields without mistakes.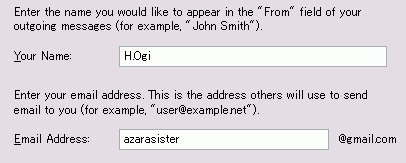 Spam filter setting and Confirmation
Finally, the confirmation page is shown. Please confirm your email address is set up correctly. If there is a mistake, click "< Back" and fix the error. There is also the option to specify whether you use Thunderbird's spam filter or not. I recommend you not to use Thunderbird's filter for performance issue.
When you click "Finish", the password form appears and ask the password. If you input it, Thunderbird will login to Gmail and set up special folders automatically.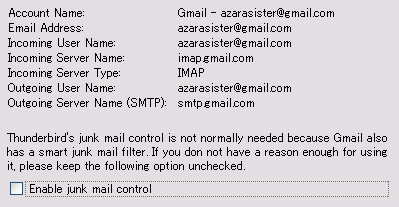 If no alert appears, you succeeded to set up. You can access Gmail via Imap from now on.

top
Copyright (C) 2011- h.ogi , All rights reserved.